Dr. James E. Hollingsworth, Jr.


Memorial Scholarship Fund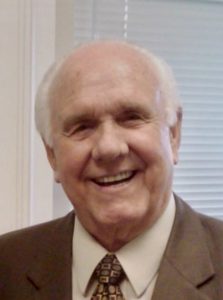 The Memorial Scholarship Fund of Manna Seminary (Ministry Education branch of Mutual Missions) is named after Dr. James E. Hollingsworth, Jr. in honor of his long and successful ministry.
He was born in Corsicana, Texas, on June 8, 1929, to parents, James Elbert Hollingsworth Sr. (long-time pastor) and Verna Lee Boyd (homemaker). He went home to be with the Lord on April 11, 2016.
James "Jim/Jimmy" came to Christ at an early age and committed his life to preach the gospel as a young man. He was the associate pastor at Corinth Baptist Church in Abilene, TX for two years and then went on to pastor in Bastrop, LA, at Springhill Missionary Baptist Church in Springhill, LA, and Union Avenue Baptist Church (Union Heritage) in Bogalusa, LA.
He earned his doctorate in theology and became the Bible Department head at Baptist Christian University in Shreveport, LA. He then moved to Oklahoma City, OK., and pastored Kingspark Baptist Church for 30 years. After a brief retirement, he planted Ruston Baptist Church in Ruston, LA, and also Mid-City Baptist Church in Bossier City, LA. He ended his full time work as associate pastor of Mt. Pleasant Baptist Church in Bogalusa, LA, assisting his son Dr. J. Mark Hollingsworth.
Bro. Hollingsworth's ministry was characterized by Matthew 29:19-20. He lived to tell others the "good news" of salvation in Jesus Christ and loved and shepherded the people he served.
Jim was a devoted husband and father who lovingly led his family by example. He had a great sense of humor and those who knew him still quote some of his humorous comments and stories.
Jim and Ann's life verse was Matthew 6:33, "But seek ye first the Kingdom of God and His righteousness; and all these things shall be added unto you." Jim's paraphrase was, "Take care of God's business and He will take care of yours!"
All who knew him will miss the twinkle in his blue eyes as he laughed at his own jokes first, the fervor in his simple gospel preaching and the enthusiasm in his Bible teaching.
Many thousands have come to know, love and serve Jesus Christ because "The Preacher" as he was lovingly known, pointed them to God's Word and God's simple plan of salvation: belief and trust in Jesus Christ alone for the forgiveness of sin. "For God so loved the world that He gave His only begotten Son that whosoever believeth in Him should not perish, but have everlasting life" (John 3:16).
Miss Ann, his loving and loyal wife for 68 years, made the first donation to this greatly needed scholarship fund. She did so because of Dr. Jimmy's heart for leading and training young ministers through the years.
Any individual, church, or organization interested in furthering the ministry education of ministers across the world, (those in need of furthering their Christian education to do the work of the ministry) are encouraged to donate to this scholarship fund.
Thank you for your help in this great and spiritual task of training ministers to do the work of the ministry.